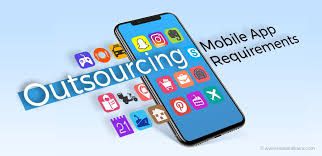 The process of mobile app development is inspiring millions of businesses all over the world. Budding and established entrepreneurs are now trying to catch the right nerve and gaining better visibility in the market with an ameliorating world of digitalization. The tech world is continuously coming up with interesting ideas to gain a better audience and kick start the revenue funnel.
Are you among the many? Are you too trying to create a global brand name with a seamless mobile app? Are you looking forward to outsourcing the mobile app development process? If yes, then this blog is just what you need right now. Take a good look and expand your understanding of the complete process.
Outsourcing Your Mobile App
The strong foundation of an emerging business is built with the help of an effective strategy. A sure shot idea requires you to adopt the trending technologies, only then you can rank higher than your competitors. Because of the unmatchable advantages that this process delivers, many are attracted to this golden opportunity. Many businesses fail, only because of a lack of app quality. But with a little professional guidance, a lot can be overcome.
The crowd in the market makes it tough for any budding businessman to find the right team to outsource the project. This blog will help you to understand all the related technicalities of this process. So get set to dig in and expand your knowledge base.
What does outsourcing an app mean?
It simply means that you are giving a contract to a company that can create your business app for you. There are a variety of contracts and all are based on your requirements. For example, you can have a complete application created or just a part of it. This single decision can make or break your brand, therefore you need to choose the team wisely.
If your problem is the huge number of available options, there is a quick guide to choose a company wisely. Take a look-
1. Conduct a google search with the help of the right keywords. This will list all the favorable options.
2. Make a list and visit any popular business listing website. Conduct research over there as well. You can find the clients they have worked for, ranking, reputation, review, recognition, and much more. It will help you to shortlist a few of the names.
3. The third step is to check their websites. One can tell a lot about a team from their website. You can get hold of their vision and other technical expertise that they possess.
4. Check out their work culture, workplace, employee strength, social media, and much more.
5. The final step is to discuss the project and observe its response. If you still are confuse, then you can contact their clients and get a clearer perspective.
What are the advantages of outsourcing a mobile application?
The list of the related benefits is long, but we have sorted out a few just for you. The perks will help you to understand the need and will accelerate your decision.
1. Minimize the risk
A good team will tell you about all the involved risks even before starting the project, all they need to do is a good analysis. And that is not it, you can also expect a full proof plan where they would tell you about the steps to cope up with the risks. Transparent communication with your company can solve a lot of problems in a second.
2. Complete assistance
The process of launching a mobile application is not like shooting a fish in the barrel. There are multiple procedures involved. But once you hire a team, you can take off a lot of unnecessary pressure, as they measure each and every technicality. The team provides end-to-end assistance, strategy, plan, conceptualization, and the rest of the necessary aspects.
The huge glut of applications in the stores are lacking perfection because a lot of them have been developed without a team of experts. If you don't want to fall into that category then find the right brood.
3. Experts' advice
The complication and technicalities involved in the process cannot be managed by someone from a non-technical background. But an expert can handle the development and deployment of the project like a pro. Here's how they can help you-
Training work assignments

A complete project analysis report

Resource access

Support

SEO marketing

App search optimization
4. Decrease cost & save time
Do you think hiring an in-house team for your business mobile app is easy? Definitely not. It is both time-consuming and costly. The recruiting time can be saved to market your application and create a unique brand identity. Similarly, the cost can be used for digital marketing. Hiring a team thus saves you time and money.
The creation of an application involved several processes from ideation to strategy and design to development. This will take a huge in-house team which is totally unnecessary. Just hire a team of excellent professionals and be done with your worries.
In A Nutshell
For any newcomer, the technical world is a bit complicated. But once they get a hold of it, a steady stream of revenue can be maintained. If you want to relish the same benefits, then stay tuned to this space, as we have a lot to discuss apps and their market!
To be informed of the latest articles, subscribe: